A Letter From the CEO
Hopefully, by the time you are reading this, the blackouts have ended.  Not all our members were affected by the blackouts, but about 3,500 were.  I wanted to take a moment to provide more context to the situation, so everybody understands what we were dealing with and the limitations on DSO.
Background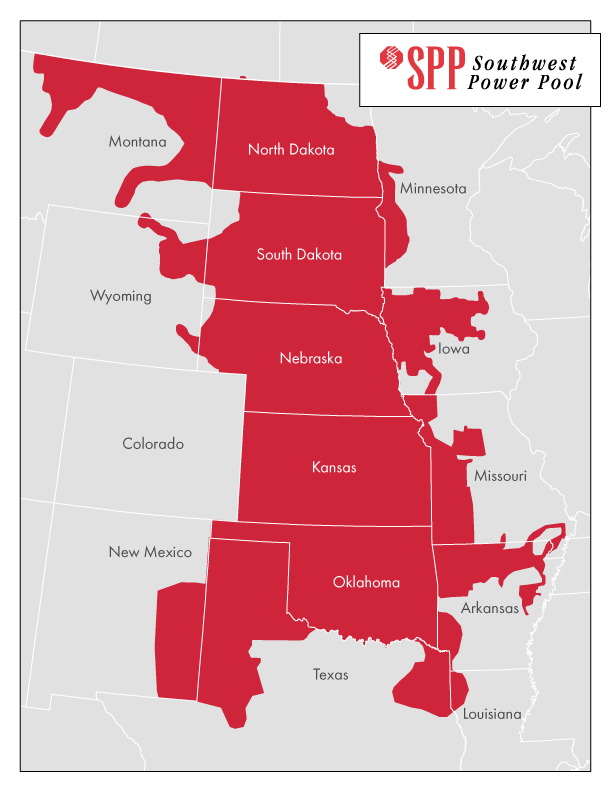 The blackouts were called for by the Southwest Power Pool (SPP).  The SPP website says SPP "oversees the bulk electric grid and wholesale power market in the central United States on behalf of a diverse group of utilities and transmission companies in 17 states."  As you can see from the image to the right, SPP covers most of the middle part of the US.  Our power supplier, KEPCo, is part of SPP.  Evergy, which supplies most of the power to Kansans and provides over 50% of KEPCo's power, is also part of SPP.
The Problem
On February 12, 2021 SPP forecasted that the record low temperatures predicted for the week ahead would likely put a strain on power supply.  As the demand for power increased over the weekend, natural gas and electricity supplies were quickly being exhausted faster than they could be replaced.  The biggest issue was the cold weather in the south.  When compared to summer, the normal demand for electricity during winter months is relatively low in Texas and Oklahoma.  But this cold spell was so strong that the demand for electricity was surpassing those states' SUMMER electricity demand!  In addition, energy reserves were being exhausted.  Since being founded in 1941, SPP had never ordered utilities to deploy rolling blackouts.  That streak would end of Monday, February 15, 2021.
The Blackouts
SPP initially asked utilities to tell their members and customers to reduce their usage.  That information was relayed to DSO by KEPCo and Evergy.  So, on the morning of February 15, we asked our members to reduce their usage.  We also reached out to some of our larger industrial customers to see if they could reduce their usage.  An hour later, I had a conference call with KEPCo management and its members electric cooperative managers.  We discussed the concept of blackouts, which would be ordered by SPP and put in place by Evergy.  We were told the blackouts would last 30-45 minutes.  Less than 10 minutes after the call ended, Evergy shut off power to sections of northern Salina, as well as to rural areas around Salina, like Minneapolis and Gypsum.  We lost power to over 1,700 members.  We continued to update our members on everything we knew about the blackouts as soon as we received it from KEPCo or Evergy.  Evergy turned power back on about an hour later.
Early Tuesday morning, SPP called for a reduction in load almost five times larger than what Evergy shut off on Monday.  Evergy responded by shutting off various substations, including our Milford and NW Junction City substations, which affected another 1,700 members.  Initially, SPP said the blackouts would be like Monday, 30-45 minutes.  As the time came and went, SPP sent out new information that the blackouts would now be 120 minutes.  We passed this information on to our call center, and our social media pages and website were updated.
Unfortunately, when the time came to turn the substations back on, Evergy somehow missed turning the Milford and NW Junction City substations back on.  So those substations ended up being off over three hours instead of two hours.
We also had shutoff problems with our Gypsum substation.  Evergy's plan was to have rotating blackouts so no substation would be disproportionately burdened.  Our Gypsum substation was shut off Monday but was not rotated to the bottom of the list.  As a result, it was also shut off again on Tuesday.
The issues we faced with Evergy's shutdown plan were also experienced by other electric cooperatives.  There were multiple errors made across the state and those are being addressed by many entities, including state and federal authorities.  Aside from the Gypsum and Milford/NW Junction City issues, I do think Evergy did a pretty good job in communicating with DSO.  Likewise, KEPCo provided us with timely updates.
Our System
Fortunately, no other blackouts in our system occurred (at least at the time of this writing.)  But you may have noticed a common theme from reading the above information; DSO is subject to actions taken by SPP, Evergy, and KEPCo with our power supply.
Many of you already understand how DSO is structured, but this would be a good time to go over this.
Power Supply - DSO buys its power from KEPCo, which serves as a bulk purchaser of power for many electric cooperatives in Kansas.  KEPCo, in turn, buys most of its power from Evergy, which is subject to SPP rules and regulations.
Poles & Wires - DSO owns and operates everything from the meter on your property, to the transformers, poles and distribution lines feeding that meter, all the way to the substation.  DSO owns some of the equipment in the substations, but the substations are powered by transmission lines owned by Evergy.  While we pay KEPCo for transacting the power purchase, the power carried on those transmission lines comes from Evergy.  All 16 of our substations throughout our territory are powered by Evergy transmission lines.
Knowing this, you can see that DSO only has control of the DISTRIBUTION of electricity from the substations to your homes and businesses.  The reality is, even if we maintain our system to ensure our equipment, poles, and wires are in great shape and will reliably deliver electricity, we are still limited by what Evergy does.  If Evergy has a power supply problem with a coal, gas, solar, or wind facility, then that may affect our members.  If Evergy has a problem with a transmission line that feeds our substation, then you will likely have an outage.  For good or bad, we are extremely dependent on Evergy.
Wrap-Up
I hope this article helps explain the problem some of our members faced this week with the blackouts.  And I hope it sheds light on how DSO operates.  Hopefully, this is the only time you will ever be faced with rolling blackouts, but nobody can guarantee that.
To help us communicate better in future situations like this, we are asking our members to make sure they are signed up on the SmartHub system.  Simply click on the SmartHub link on our website and signup.  You can use SmartHub to pay your bill, view your electricity usage, and sign-up for notifications.  We used the notifications to provide members updates on the rolling blackouts.  Currently, about 40% of our members are signed-up for Smart-Hub.  We hope you sign-up so we can better communicate in times of need.