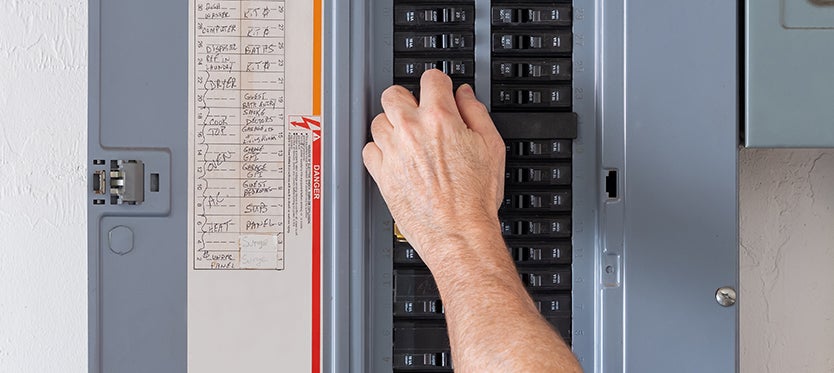 On the Line by Michael Olberding
Earlier this year, I wrote an article about drought and high wind. I hope that is all behind us now. With summer thunderstorms rolling in almost every night, we need to talk about some of the nuisance outages.
When the lights go out, there are a few things you should check before calling to report an outage. First, check the main circuit breaker in the breaker box in the house. If that is not the problem, then check and make sure the outbuildings (if you have any) are also out of power. If everything is out of power, then there is one more place to check, outside at the meter.
The location of your meter can vary; it may be on a meter pole, transformer pole, meter pedestal, or even on the side of the house. Make sure you are familiar with your meter location in the daylight hours because it is usually after hours because it may be dark when the power goes out and you need to find it. Even if you are renting or house sitting, this is a must. Check the main disconnect box under the meter can. This box has a lot of names, such as fuse box, load center, breaker box, and main disconnect box. If the disconnect is ok and the meter display is blank, then call DSO to report the outage.
Once you have checked everything on your side of the meter, finding the source of trouble will be that much easier for DSO; we wIll know a lot sooner if this is an individual or line outage. If the problem is a tripped breaker that will not reset, or anything else between the electric meter and the house, you'll need to contact your electrician to make the necessary repairs.
DSO's policy is that every new service has a disconnect below the meter; this way, everything downstream of the disconnect is protected. If your service does not have a main disconnect below the meter and you would like to have one, please contact the office and we will get someone out to see what it would take to get one on your service.
While there are several reasons to have a main disconnect below the meter, probably the main reasons would be so power could easily be shut off any time when there is an emergency.  
These are just a few things to keep in mind regarding outages and main disconnects.  We want you to be safe and want you to call us with any questions concerning your electric service.