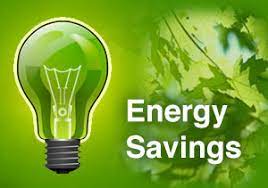 Tuesday | February 1, 2022
Remembering Dad and Saving Energy
By:  Marla Marshall, CFO
"Do you need that light on?"  "Only if I want to see what I'm doing, Dad."  "Well, when you're done, turn off the light."  "Yes, Dad."
I lost my dad this past year.  He was 92 and had failing health, but up until about seven years ago, he was more fit than many men and women half his age.  He had my respect.  My mom has my respect as well.  They were (and are) hardworking, good people.  They provided a wonderful upbringing for me and my five siblings.
Growing up, we didn't always understand their hyper-vigilant efforts at saving electricity (hanging clothes on the line instead of using the dryer; baking more than one item if the oven was going to be on; and always flipping the light switch off whenever we left a room).  We understand now that it wasn't just about saving money.  It was about respecting our resources and not being wasteful.
Please join me in a quest to live life without being wasteful and be mindful that every little thing counts, including our energy use.  Besides turning the lights off, we have other energy saving ideas on our website at dsoelectric.com.  Click on My Home, Energy Savings, Energy Saving Tips.
Thanks, Dad, for doing things the right way!